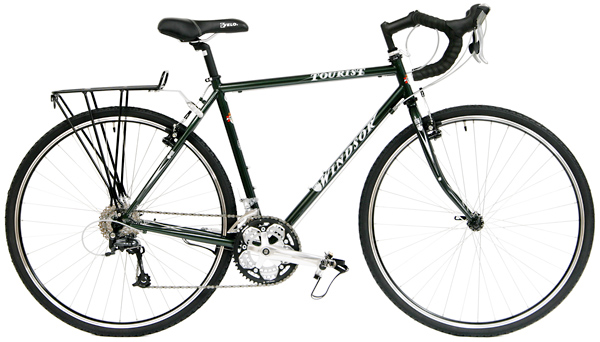 You can do whatever you want with a Windsor Tourist, but if you're anything like the guys at Windsor, you're gonna want to travel unfamiliar blue-line highways on this bicycle. Maybe ride it to your reunion.
Windsor's product engineers designed this bike for comfortable loaded touring. The angles of the butted, cro-moly frame are relaxed for stability, the wheelbase is long, the clearances around the wheels sufficient for fat, sturdy tires and fenders.
The wheels are especially strong, each built with 36, 14-gauge spokes laced into strong, double-wall aluminum rims with comfy riding Kenda Euro Trek long-distance tires on them.
The drivetrain, upgraded this year, is a durable mix of Shimano's smooth shifting road and mountain components. Its a wide-range 27-speed Shimano TiagraSTI/Deore setup, gears for the Smokies (up and down) and the desert southwest. The powerful yet simple, cantilever brakes are upgraded this year too.
MSRP $599
http://bikesdirect.com/products/windsor/tourist.htm
Largest Size: Top Tube: 589 Head Tube: 165 Stand Over: 861