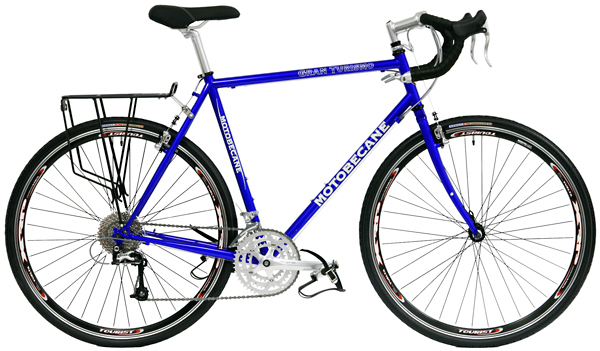 There are only a few good choices when buying a high grade touring bike
Windsor Tourist, Trek 520, Motobecane Gran Turismo, Co-Motion Nor'Wester, Rivendell Atlantis, and so on. These bikes are all high grade touring specific bikes that have many features in common - including price tags well over $1200.
You can do whatever you want with a Motobecane Gran Turismo, but if you're anything like the guys at Motobecane, you're gonna want to travel unfamiliar blue-line highways on this bicycle. Maybe ride it to your reunion.
Motobecane's product engineers designed this bike for comfortable loaded touring. The angles of the butted, cro-moly frame are relaxed for stability, the wheelbase is long, the clearances around the wheels sufficient for fat, sturdy tires and fenders.
MSRP $699
http://www.bikesdirect.com/products/motobecane/gran_turismo.htm
Largest Size: Top Tube: 589 Head Tube: 165 Stand Over: 861